BBM for iOS and Android is finally here after the huge mishap during the supposed launch a month ago. Having used it for couple of days on iOS, here's why I won't be using it anymore.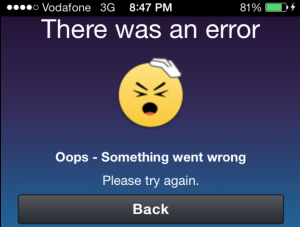 1. Having to wait.
Like really. After registering (took a while for that too), it said due to the high request for the service you are placed in queue.
2. Profile pic being repeated in chat.
If BBM is really trying to compete with other cross-platform messaging apps such as Whatsapp, they are way behind in the game. The basic UI is flawed. Why would I want to see my pic some 4 times in a chat window?
3. Forcing to reply.
Now there are times when you just want to read a message and reply later, right? Well, BBM begs to differ. You open a message and the keyboard pop-us immediately screaming "type, type, oh please type"
4. "D" and "R"
Is that really a killer feature? Bad enough with (non iOS) users of whatsapp sweating over "Last seen at.." timestamp leading to "You saw, you saw and you didn't reply" issues. A double tick mark on indicating that the message is delivered is enough, don't you think?
5. Ping.
This one reminds of 'poke' in Facebook. Need I say more?