Not creating any suspense as I've been on the edge for the last one week. The companies I am livid about are Cleartrip (https://www.cleartrip.com) and Air India (https://www.airindia.in).
I booked a flight for a holiday with my wife and her parents to Kochi on 12th March 2022 on Cleartrip. Attaching screenshots for reference.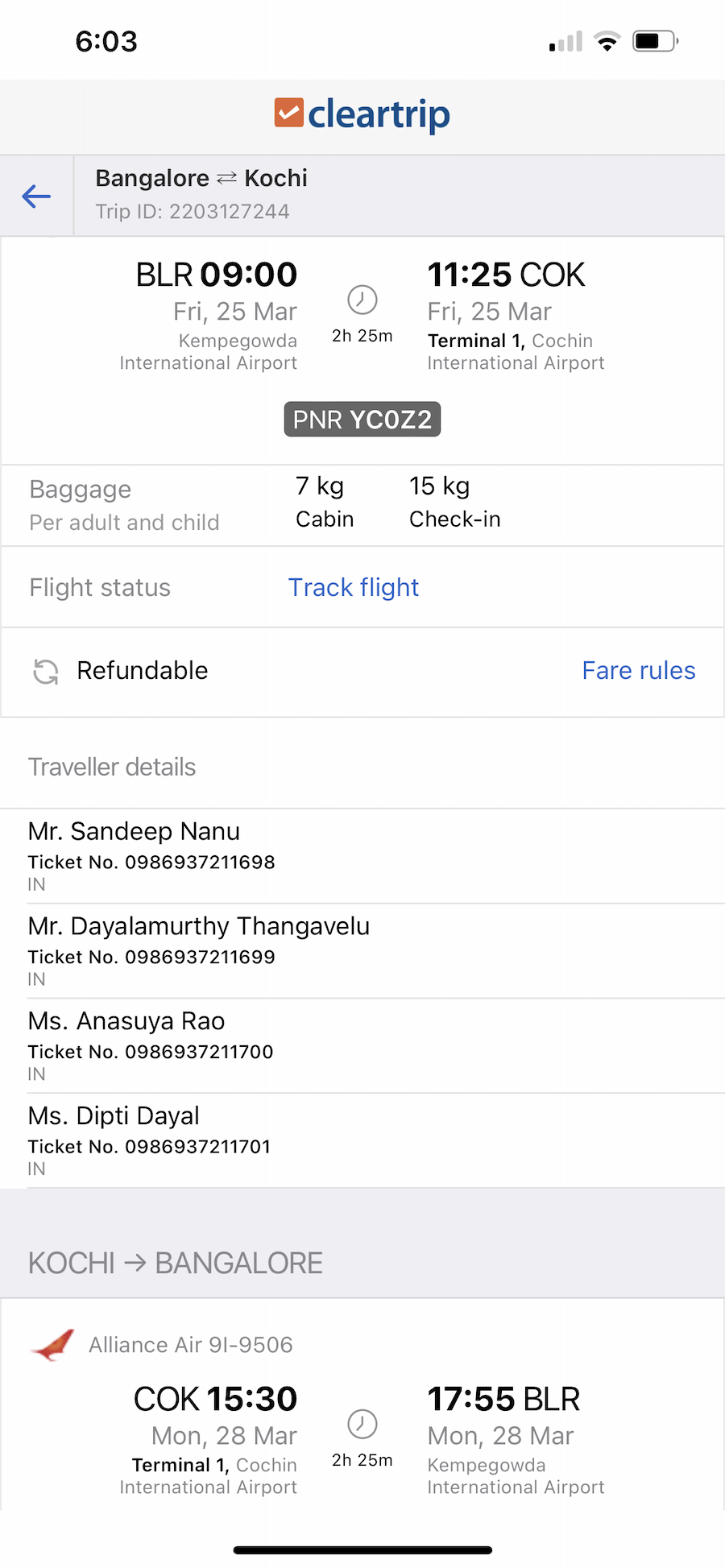 Onward was fine. But the return journey was a nightmare. Air India flight was supposed to be at 3:30PM and this is the message I get (with timestamp).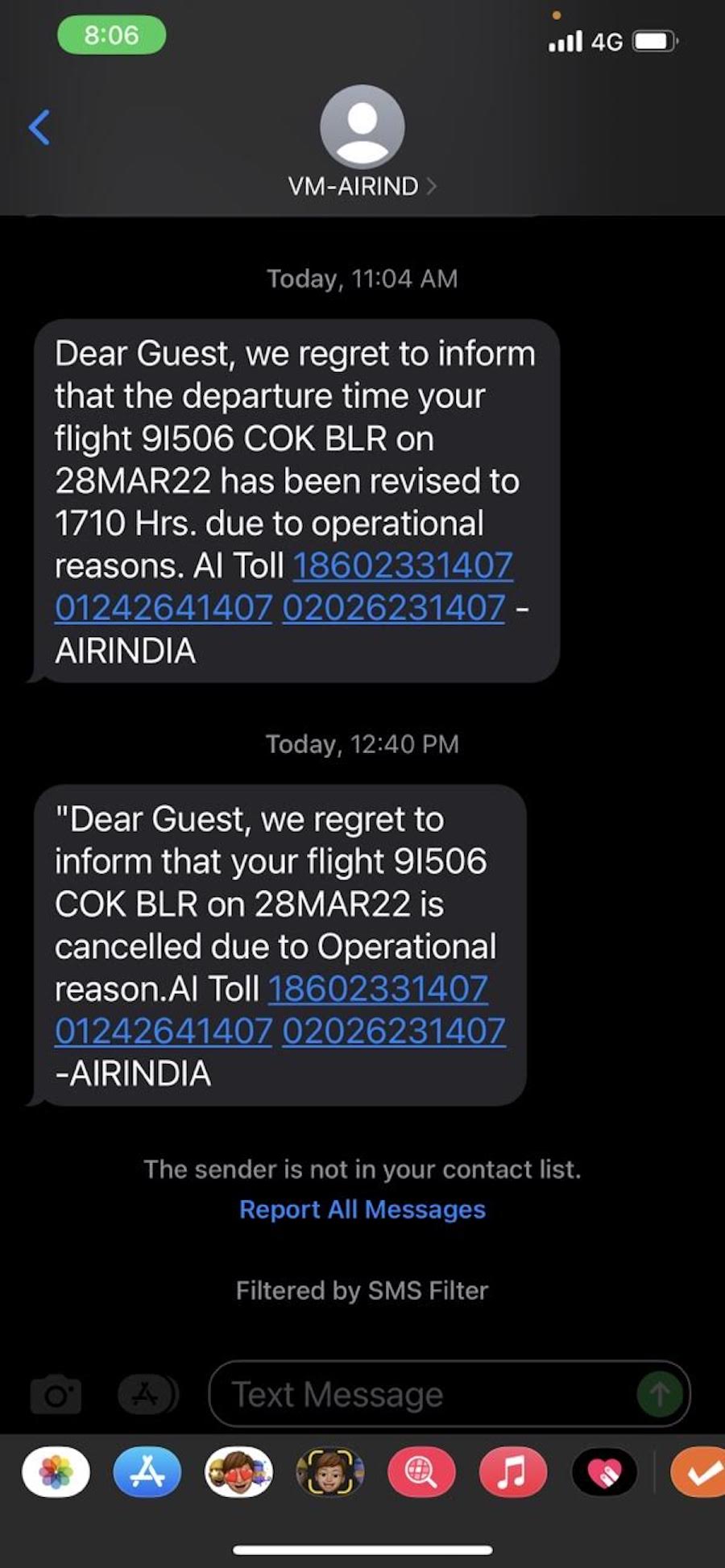 That was it. No other info on if they are providing an alternate flight, a mail, a call, nothing. Zilch. While sweating in the Kochi heat, I call Air India customer care. After much effort, finally get a human online who has no clue about this canceled flight. With no other option, instead of making a couple of senior citizens wait and both my wife and I worrying about our work the next day, I decided to book another Indigo flight at 9:15 PM same day by spending almost 18k.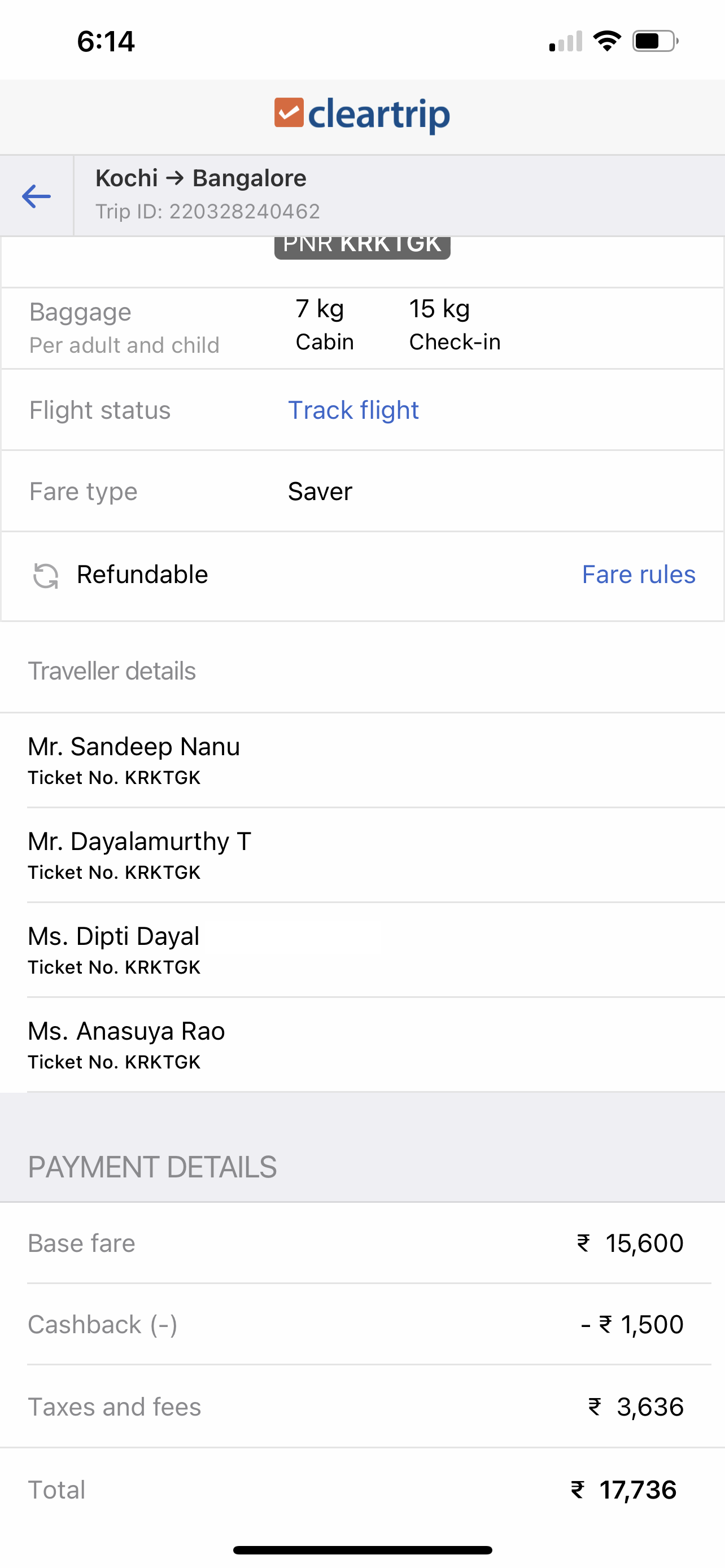 Well, this flight was delayed and finally took off at 11:30 PM and we reached home at 2:30AM (Tuesday). Ideally should've been home by 7PM on Monday. My entire day on Tuesday was ruined with lack of sleep but I had no mail/call/message from anyone so far on the canceled flight.
I call Air India and they are asking me to contact Cleartrip. I call Cleartrip and they are saying we need refund confirmation from the airline. And, of course, my refund was processed. Do you know how much?
ZERO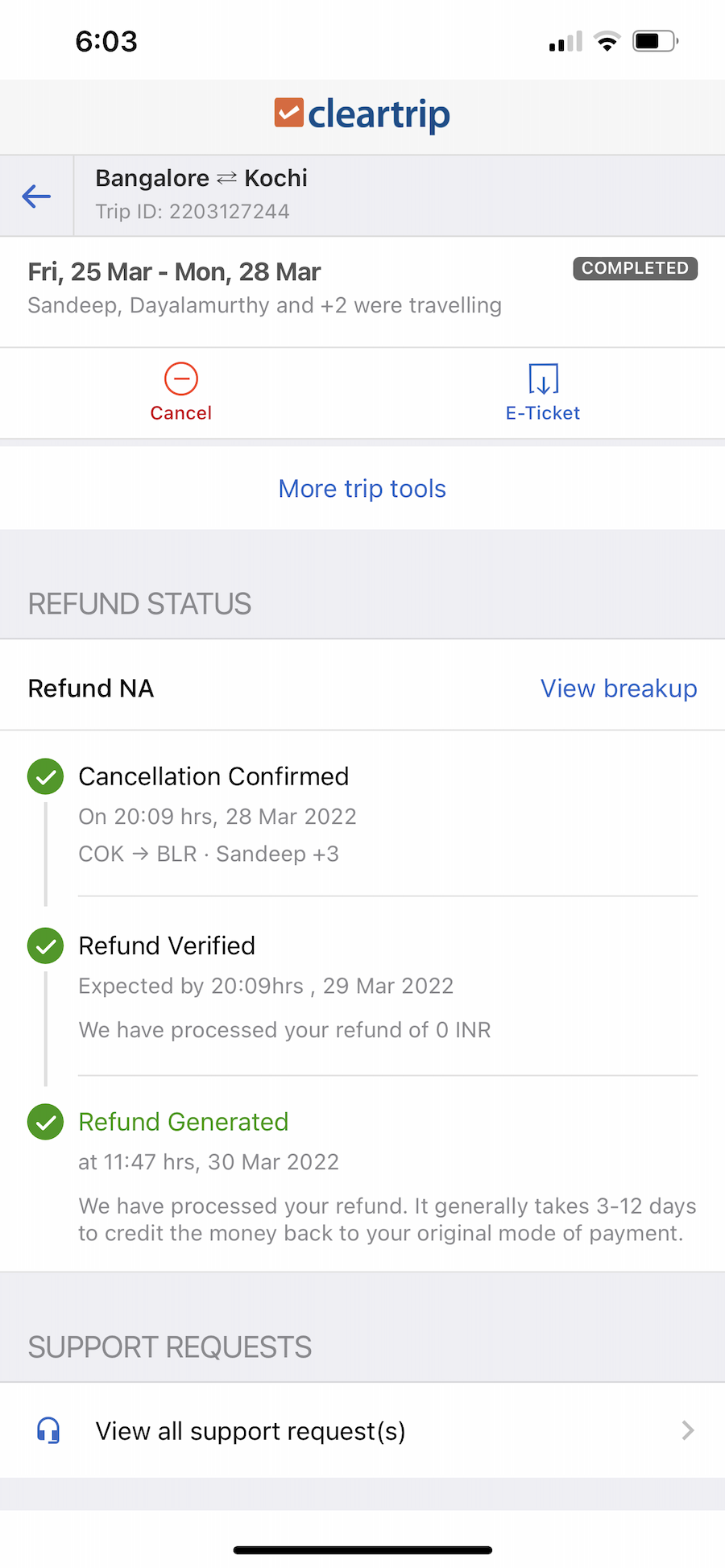 Joke no?
Well, tried reaching the airline via Twitter and got a standard copy-paste reply. I sent them the details via DM.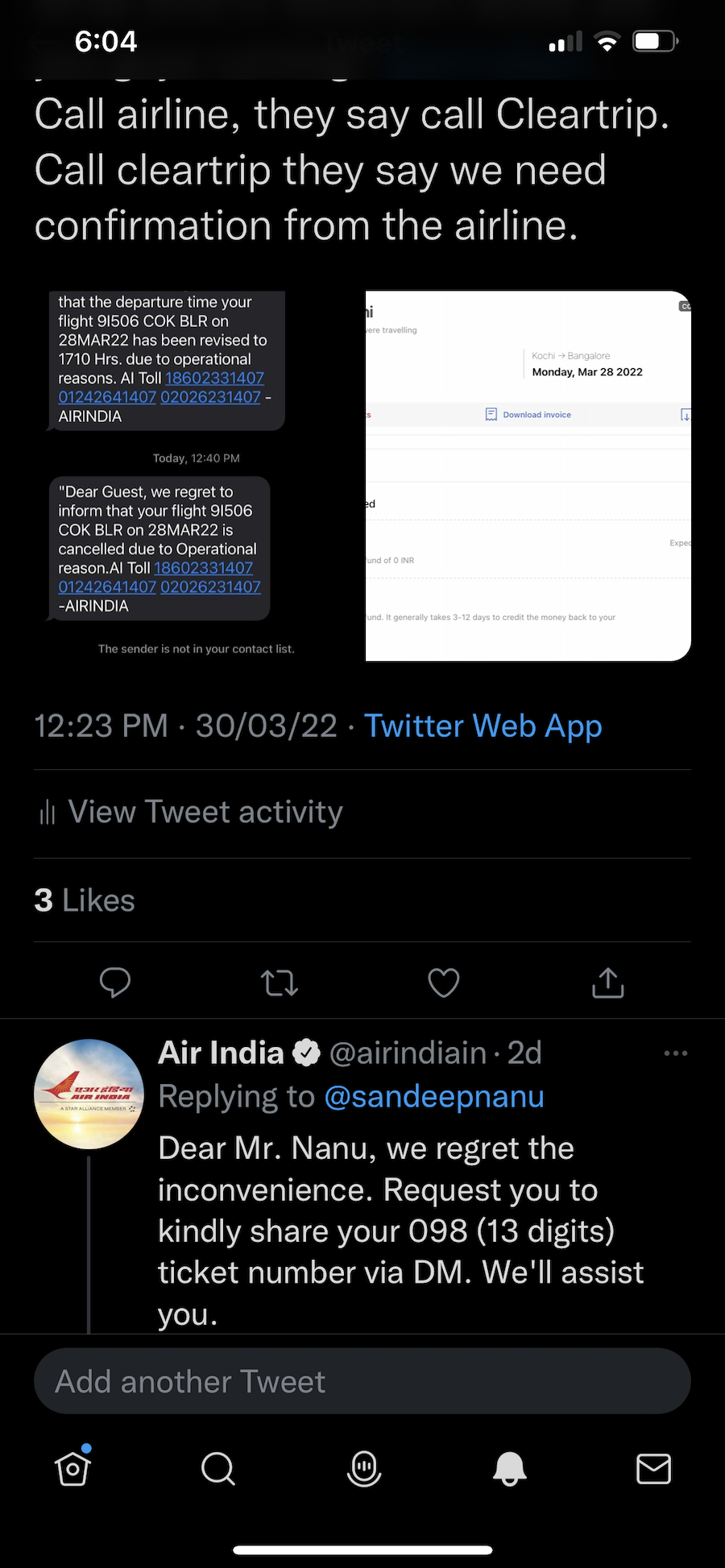 And guess what the reply was for that in my inbox?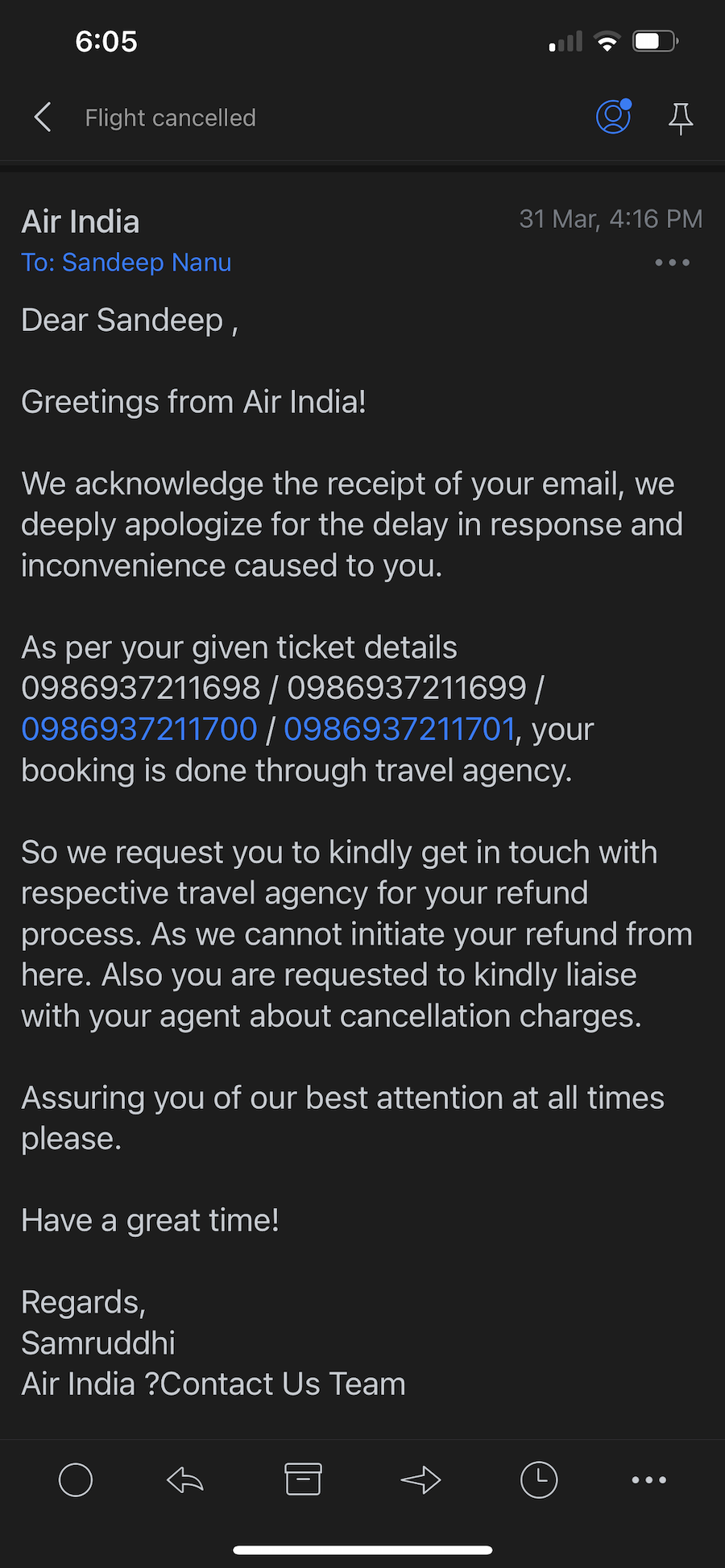 I forward this mail to Cleartrip customer support mail ID. And here's their automated reply.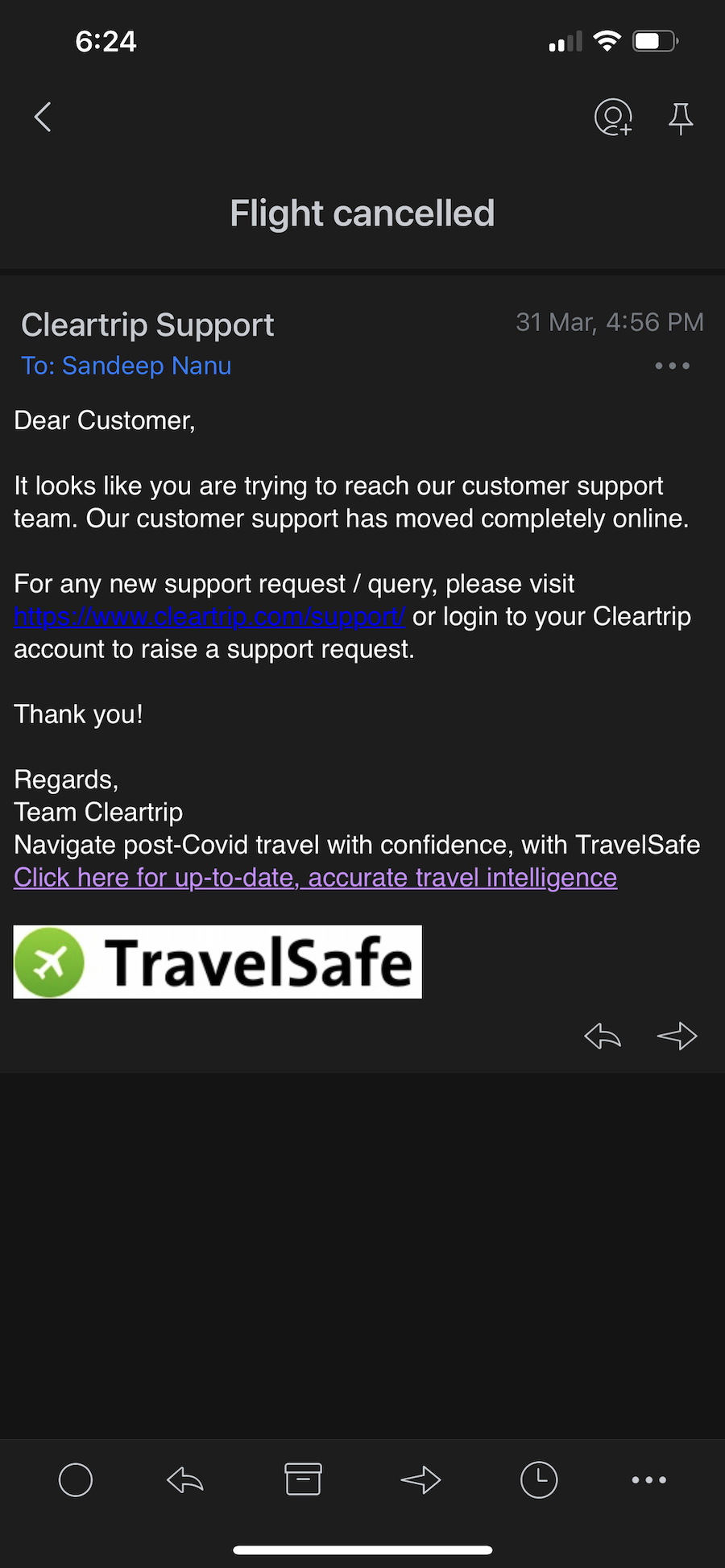 Since these two are playing tennis with me with no end to the solution, I decided to call the National Consumer Grievance toll number and register a complaint with them.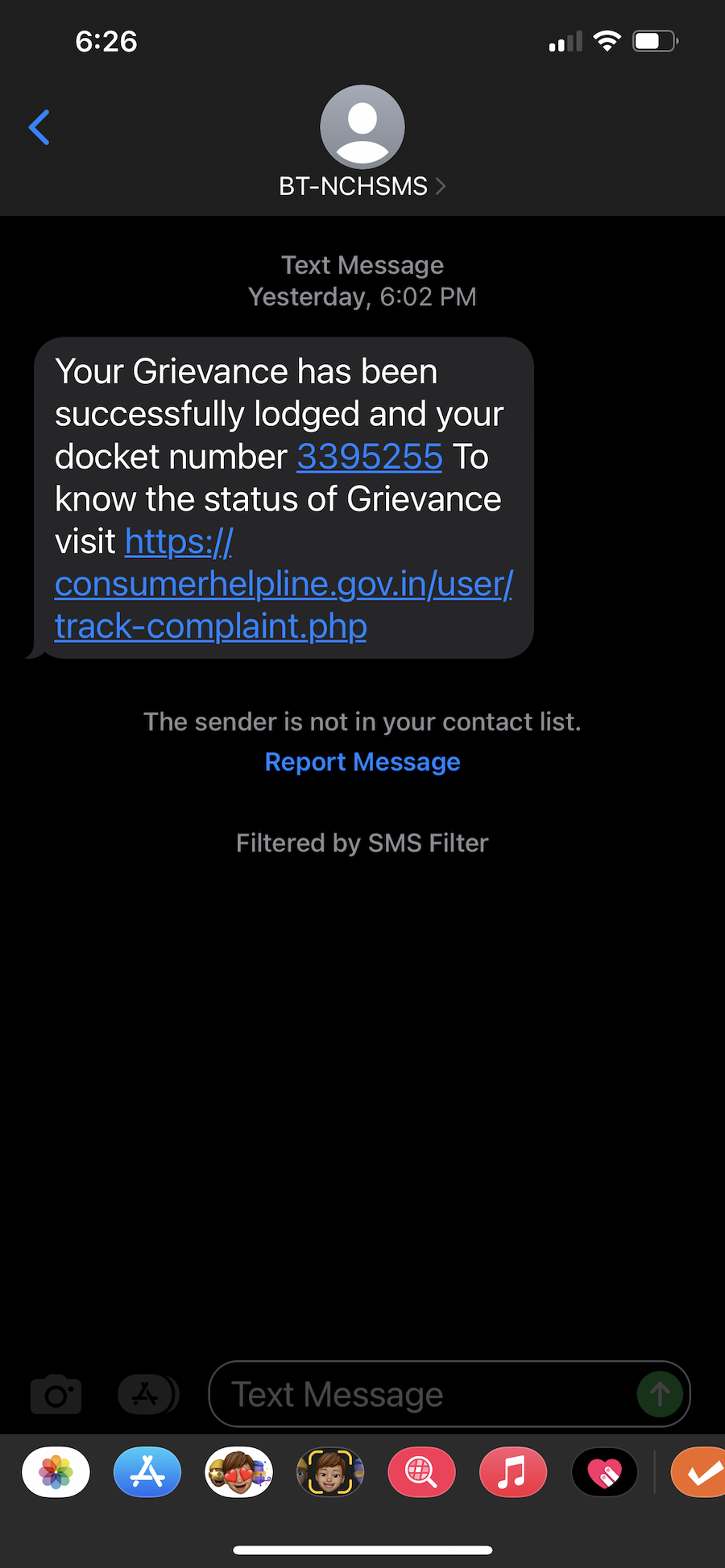 On 2nd April, I received this mail from Cleartrip.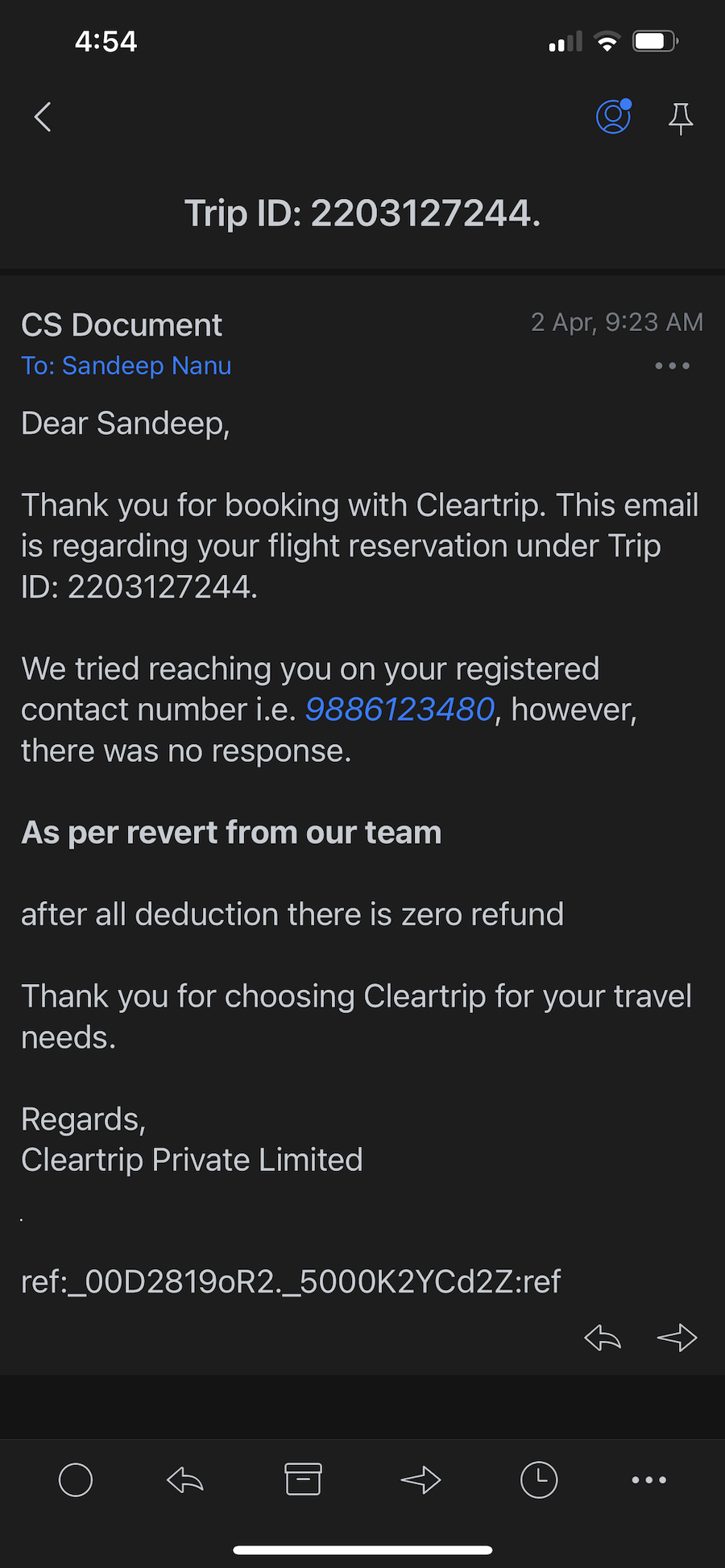 And, that's the story so far. I will update this post as and when things unfold. A flight was canceled by an airline, the customers are made to suffer and cough up another 18k, and no one is responsible. No one is accountable. If this isn't fraud, then what is? All the business lost in the 2 years of the pandemic is being looted from gullible customers like this.
A well-planned holiday was ruined by these two incompetent companies. Who will pay for this?
If any of you have any contacts in either of these airlines or even at a legal level, I'd like to sue them not just for the money lost, but for the hours I've spent trying to resolve this as well.
Update: 08 Apr 2022.
After I put this up on LinkedIn, I got a call from someone sensible from Cleartrip who told me she will help resolve this issue. But, since Cleartrip wants to compete with Air India on stupidity levels, I got this mail from the customer care team. Hilarious to say the least.
Post this interaction, Pushpalata called me and asked me to ignore this mail and that she will resolve this from her end. There is still hope.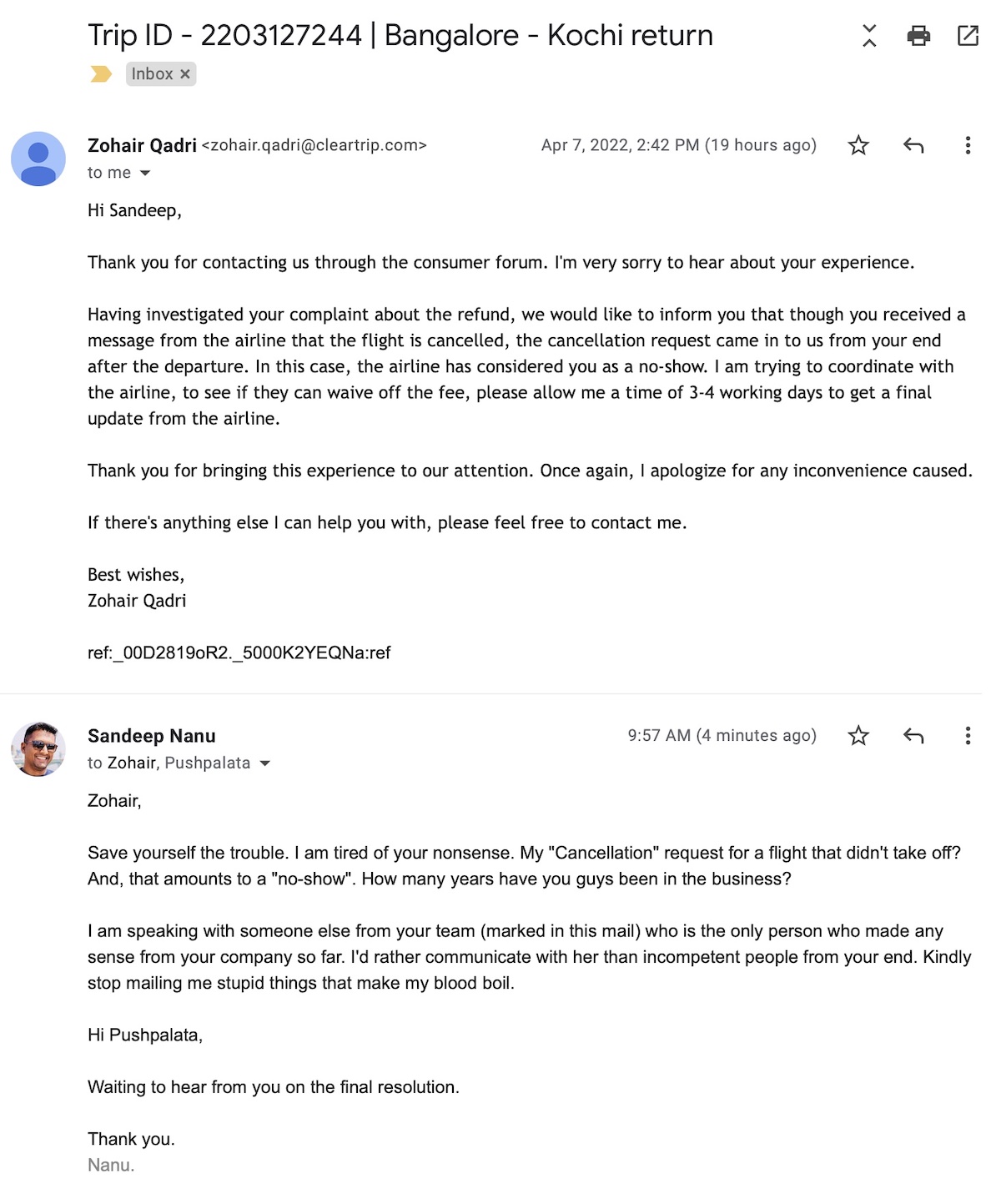 Update: 10th April 2022.
As I mentioned in my e-mail, there's only one responsible person from Cleartrip I managed to speak to during the course of this ping-pong contest. Pushpalata was knowledgeable and was keen on solving this on my terms. She spent time internally to finally get a resolution that I was content with. This is the mail I received and hopefully, the money will be transferred shortly.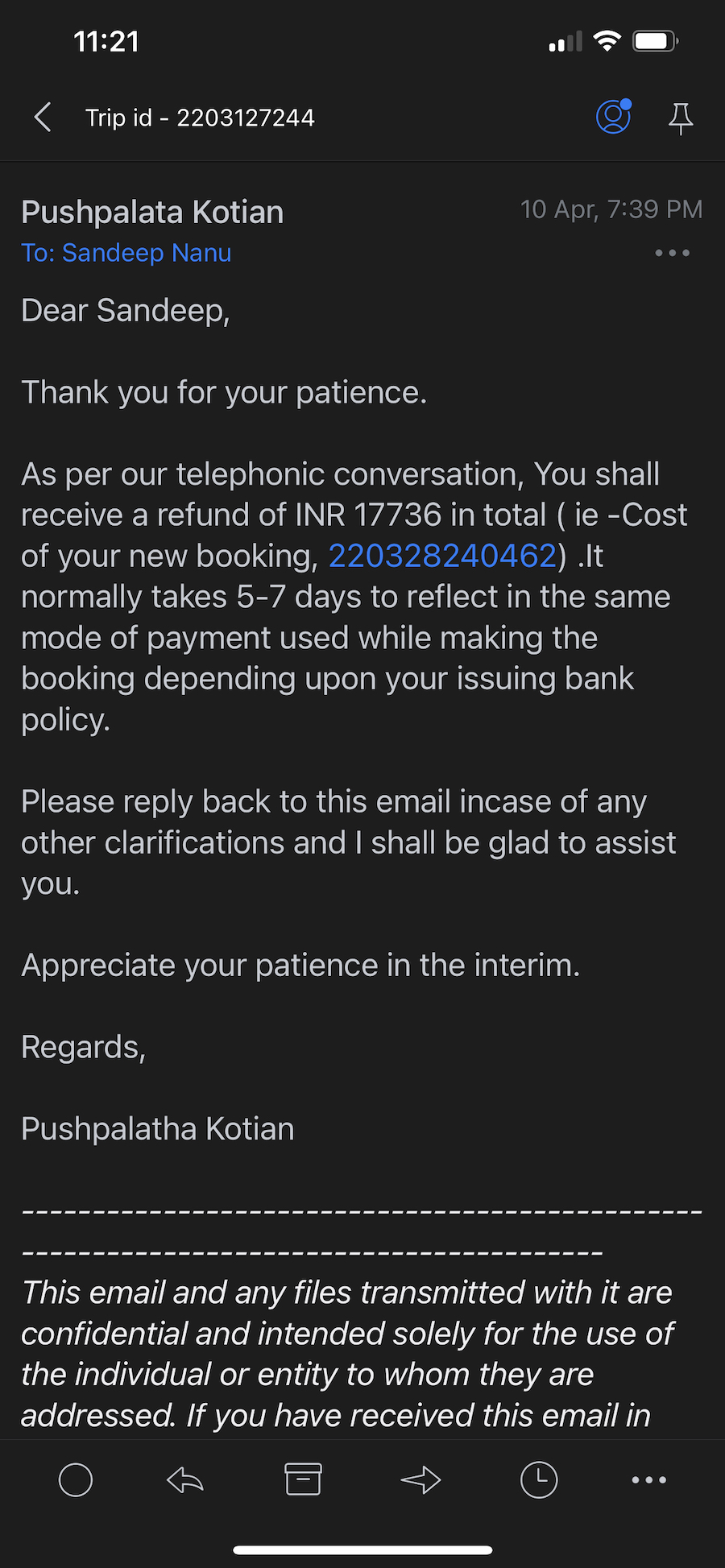 Update: 16th April 2022.
As promised by Pushpalata, I received the full refund of 17,736 in 4 installments as of today. While I am glad that this was resolved, it took me this blog and some noise on LinkedIn for them to have reached out and sorted it. Would've been far more sensible if they had done their bit in the beginning without having to go through this route. Some faith in Cleartrip definitely restored but Air India, they are just complete nonsense.
Thank you again Pushpalata for being extremely professional in taking this to closure. Thank you to everyone else, who did their part to amplify my issue.
Cheers!